About Al Khazar
Al Khazar Fishreies Factory is a leading seafood processor and importer based in Aojam Industrial Area, Eastern Province, Saudi Arabia. The factory is a part of the prestigious Kafeir Group.

Ali Hassan Kafeir Est. is one of the leading and well diversified business group in the Kingdom of Saudi Arabia since 70 years, with head quarters at Qatif in the Eastern Province. It is an inherited business of our forefathers which includes local and international trading, processing, Imports and Exports of fresh and frozen seafood.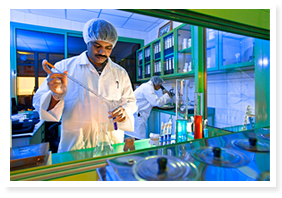 Though started only in the middle of the year 2008 the factory had gained great reputation as one of the most quality conscious and reliable seafood supplier in the region and had achieved ISO 22000:2005 certification for food safety quality management system certified by QMSCERT.
The state of art factory is ranked as among the best in the region and is designed to meet the US FDA and EU standards. The factory is made of PUFF insulated panels and operates in a fully temperature controlled atmosphere ideal for handling seafood items. A fast contact Plate freezer and a modern Blast freezer having a capacity of 35 ton per day provide flexibility to handle huge volumes while maintaining quality of the product.
An in house flake ice machine having a capacity of 16 MT per day ensure that only quality ice is being used in production. Only properly treated potable treated water supply is used in the factory. There are three cold stores inside the factory maintaining 25° C and can store about 1000 ton of frozen products. We have another 9 cold stores with capacity of 1620 tons to supply our customers all around the Kingdom.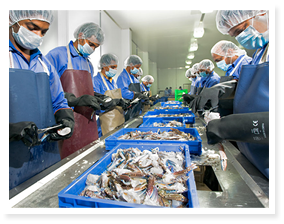 The factory is engaged in processing and packing of all kind of seafood products which are sold in domestic and international markets. In addition seafood from all over the world are imported for sale in local and GCC markets.
We act as a Wholesaler and Retailer of all type of seafood items. Raw material from the nearby unpolluted seas is handled hygienically from the landing centers till it reaches the factory. The entire product range undergoes stringent quality check at all levels and follows HACCP/ISO 22000:2005 quality assurance guidelines to match the tough international food quality requirements.

Product ranges include Hon shrimps, Headless shrimps, Peeled and deveined shrimps, Head on Lobster, Lobster tails, Sand Lobster, Whole crab, Cut crab, Cuttlefish, fish fillets, whole and processed fish which includes Grouper, Emperor, Red snapper, Seer fish, Travelly, Queen fish etc. Imported fish products like Nile perch fillet, Grouper (Hamour) fillet, Bassa fillet, squid, Tilapia, Milk fish etc.
Deprecated
: preg_replace(): The /e modifier is deprecated, use preg_replace_callback instead in
/home/khaza911/public_html/includes/smarty/Smarty_Compiler.class.php
on line
270